National TAC Conference & Exhibition
Held in Charlottetown
The largest conference ever hosted in Charlottetown, PEI welcomed close to 900 delegates and their companions at the 2015 Transportation Association of Canada (TAC) Conference & Exhibition, from September 27 to 30.
Highlights included special guest speakers, well-attended events and more than 50 technical sessions, panels and workshops covering a variety of topics, including the conference theme, Getting You There Safely.
Three workshops were also offered to delegates on the Canadian Guide for Greener Roads; the Confederation Bridge and Building a Road Safety Action Plan in Your Municipality. Papers can be viewed by author or paper title and are grouped by councils and committees for easy access.
The TAC Conference mobile application was brought back this year and provided delegates with easy access to conference information; the Association's social network expanded as delegates joined in the conversation using the TAC conference hashtag, #tacconf.
Captivating Speakers
The Honourable Paula Biggar, PEI Minister of Transportation, Infrastructure and Energy, welcomed delegates to the conference at the Monday Opening Plenary, which also featured three keynote speakers: Joe Toole, Senior Principal, Kittelson & Associates, Inc.; Dr. Matts-Åke Belin, Project Manager, Vision Zero Academy, Swedish Transport Administration and Paul Arsenault, Chair, Canadian Council of Motor Transport Administrators (CCMTA).
---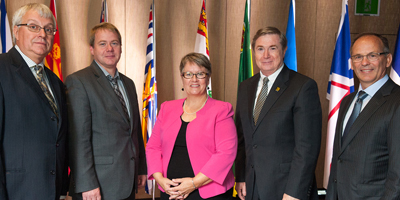 ---
Summerside native and Islander Heather Moyse, two-time Olympic Gold Medalist bobsleigh champion, captivated delegates at the September 29 luncheon. She teamed up with Calgary-native Kaillie Humphries to win Canada's first-ever gold medal at the 2010 Vancouver Winter Olympics. Heather and Kaillie reunited to defend their gold medal at the 2014 Sochi Olympic Games. Heather also represented Canada as the leading try-scorer in both the 2006 and 2010 Women's Rugby World Cups. She earned a spot to represent Canada in the Pan-American Cycling Championships in Argentina in March 2012, making track cycling her third national sport for Canada. She encouraged delegates to 'believe in the possibilities' to overcome obstacles and achieve their goals in sport, work or life in general.
Ontario Transportation Assistant Deputy Minister and TAC President Gerry Chaput provided delegates with an overview of the last year's key TAC accomplishments at the traditional President's Luncheon on September 30.
Islander Hospitality
Delegates and companions at the Sunday Welcome Reception networked while visiting over 50 transportation-related booths and table tops at the W.H. Yeates Exhibition, which showcased the latest in transportation and roads-related products and services.
---

The 18 year-old Confederation Bridge and PEI local roundabouts proved to be the most popular technical tours, offering a variety of interesting infrastructure. Participants were allowed to enter the bridge structure and also witnessed environmental and safety benefits of roundabouts.

---
---

The Monday Night Event offered the perfect backdrop to eat oysters, sink the putting challenge and enjoy PEI culinary delights including a lobster buffet and performances by local artists J. J. Chaisson as well as Gordie MacKeeman and his Rhythm Boys.

---
A student day, hosted by TAC's Education and Human Resources Development Council, was held to inspire a group of 20 high school students to pursue a career in transportation. Students networked with exhibitors about trending materials and technology in transportation; attended presentations featuring engineering projects, challenges in the Arctic Gateway and driverless cars; and participated in a team-building exercise to test their engineering skills.
An early-career professionals reception was also held for university students and TAC members, providing an ideal opportunity to network and learn about how to become involved in TAC's councils and committees and build the next cohort of TAC leaders.
An authentic Island send-off kept everyone entertained at the Wednesday Closing Event with PEI-native fiddler Kendra MacGillivray & Friends, and critically acclaimed singer-songwriter Lennie Gallant.
And the Winner is…
---

The Decade of Action Road Safety Awards were presented to recognize the mid-point of the United Nations Decade of Action. Winners included Dr. Brian Jonah, CCMTA; Neil Arason, RoadSafety BC; the City of Edmonton and the Insurance Corporation of British Columbia.

---
Technical Excellence Awards – Recognizing the importance of member technical excellence in Educational Achievement (Metrolinx); Environmental Achievement (le Ministère des Transports du Québec), Sustainable Urban Transportation (the City of Vancouver) and Road Safety Engineering (the City of Calgary; honourable mention to Parsons).
Volunteer Recognition Awards – TAC presented a number of awards to recognize the contributions of its volunteers including the Award for Service to Frank Rizzardo, Emcon Services Inc.; five Distinguished Service Awards were also presented this year: Geni Bahar, NAVIGATS INC.; Kenneth Becking, Corporation of the City of Owen Sound; Al Cepas, City of Edmonton; Said Kass, Manitoba Infrastructure and Transportation; and Larry Purcka, Government of the Northwest Territories.
TAC thanks the many organizations who supported this major annual conference for the Canadian transportation and roadways sectors through their involvement as official partners.